How to Use Globe In Coupon Codes?
It is easy to get money off utilizing Globe In Coupons. Use the step-by-step guide below to do so:
1. Browse shop.globein.com to find a handmade gift to buy.
2. Add the handmade gift to your shopping bag.
3. Click the shopping bag. This will launch a popup page with a summary of your order.
4. Click CHECK OUT to launch the company's checkout page.
5. The Globe In coupon code submission area is on the right-hand side of the page. Enter your Globe In coupon and click APPLY to get money off.
6. The left-hand side of the page is where you are supposed to enter all the typical checkout details including your email, addresses, and payment info. Do so to finalize the checkout procedure.
7. Confirm your order by clicking COMPLETE PURCHASE at the bottom end of the page.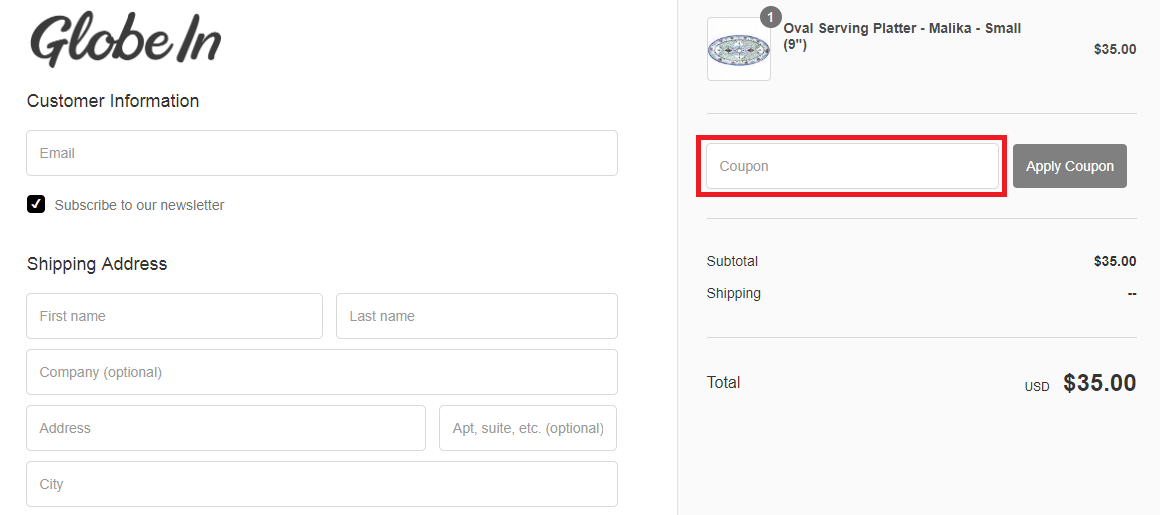 How to Save from Globe In?
You can do the following to get freebies or discounts on this site:
1. Sign up for the Globe In email newsletter: Registering with a valid email address will get you a discount code that you can apply to your order. It will also get you a free mug to use as you please. The mug designs and shapes are unique and you won't find them with anyone else.
2. Subscribing for either the essential or the premium subscription service: Subscribing to either the essential or the premium subscription service will get you money off compared to when buying the same stuff individually on globein.com. The essential service, for example, costs only 20 USD a month and the first-month shipping is free and all subsequent deliveries are made at a discounted 3 USD a month charge.
3. Use Globe In coupons: Please use them as we have explained above to grab a discount.
Globe In Review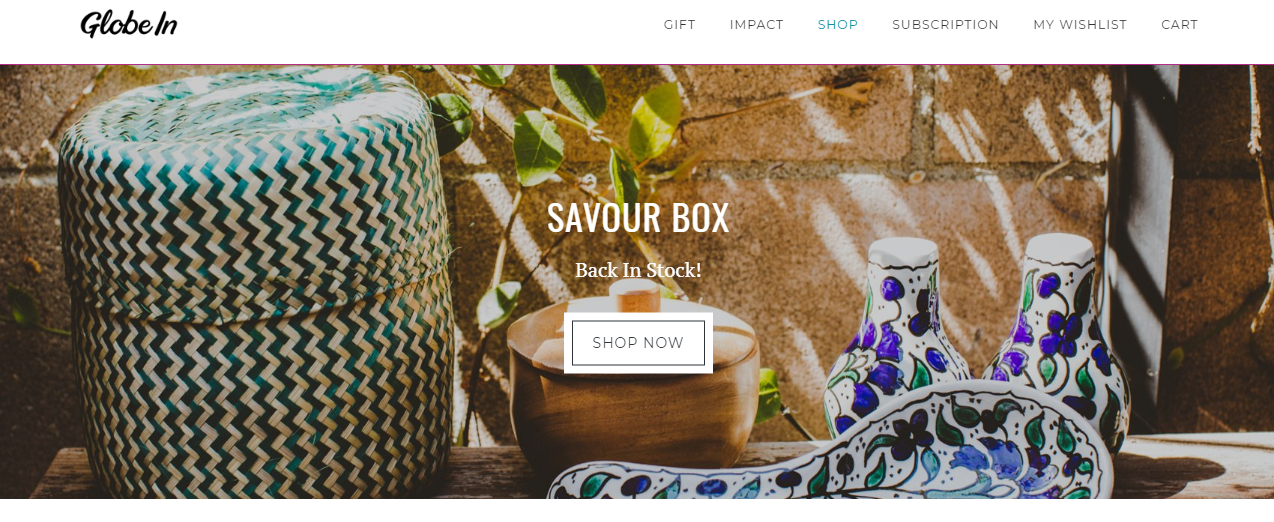 Globe In is a special online marketplace for artisans from undeveloped and developing countries. Buying items from this company help the artisans to put bread on their tables and to help their dependents. The company was founded not long ago by Liza Moiseeva and Vladimir Ermakov in San Francisco, California.
Some of the items or gifts that you can buy from this platform include handcrafted mugs, platters, baking utensils, sugar containers, mixing bowls, baskets, trays, rugs, coasters, and short glasses. The types of products available on the site keep on increasing every month.
Globe In has a star-studded advisory team that includes world-renowned personalities such as Deepak Chopra, David Gorodyansky, Dawn Lepore, Rick Roth, and Patrick Coleman. The organization is also a member of the Fair Trade Federation. Indications such as the star-studded board and the membership at the Fair Trade Federation point to the fact that this is a very credible organization.
You can now purchase the gifts and items from this store at a discount by applying Globe In coupons to your orders. You can also save by subscribing for monthly gifts. This will help you get them at a lower cost than buying them individually.