How to use Subway Coupon Codes?
Excited about getting a weekly coupon code from Subway. Subway offers a valuable service by sending coupon codes every week as a text message to your mobile phones. You can also find Subway coupon codes on the Subway website. This coupon code can be used while placing an order on the Subway to avail exciting offers and discounts. The coupon code should be entered in the field "ENTER OFFER CODE" during the checkout process.
This coupon code can be used while placing an order on the subway to avail exciting offers and discounts.
Before placing an online order on Subway, ensure that you have a valid coupon code.

Then visit the Subway website to place an order. First, select "START ORDER" option available in the website.

To start an order, enter your city or state details.

You can filter the search results based on your requirement whether you are about to place individual orders or catering orders and the requirement of delivery service.

Your search results will contain many Subway Restaurants near your search location.

Select the Subway store which will make the pickup convenient for you.

Then click "Order now."

Catering menu will be displayed for catering orders, and store menu will be displayed for individual orders.

From the menu items, select the item you need.

You can also select the footlong, bread (toasted or not toasted), cheese, veggies, extras, sauces, and seasonings.

After selecting things based on the requirements, click "Continue" and then click "Add to Order."

The item will be added to the cart, and the page that directs to the payment will be displayed. This page contains "Enter Offer code" field.

The coupon code should be entered in the field "ENTER OFFER CODE" and click "Apply" during the checkout process.

Finally, select "Go to Payment" which directs to the page where payment information can be provided along with the pickup options. Place your order by clicking "PLACE ORDER."
The subway coupon codes can be used only when placing orders through Subway Website. This coupon code cannot be used in Subway Application.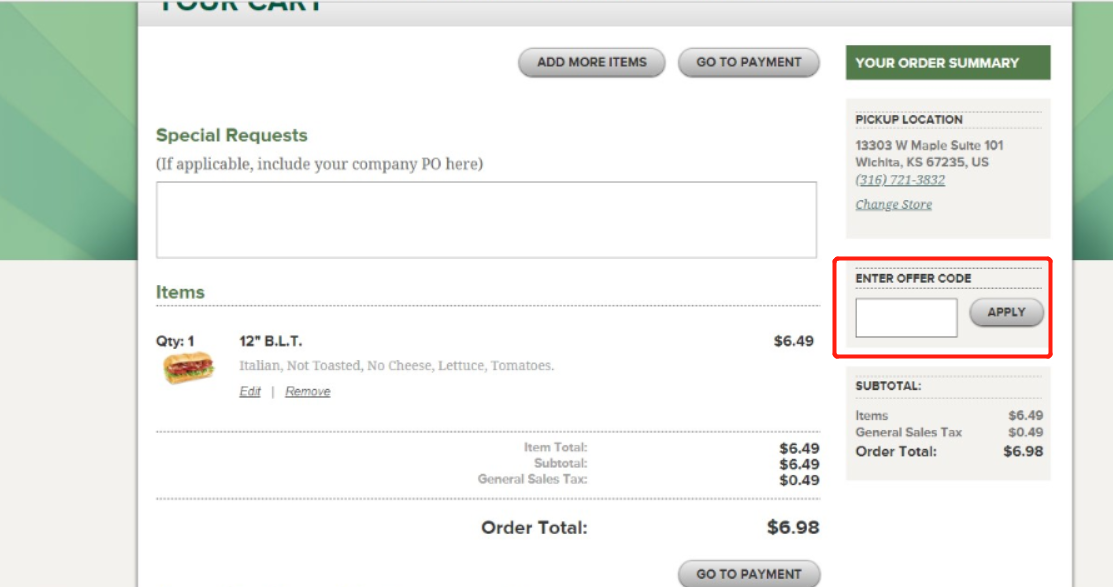 How to Save from Subway?
Subway provides many offers, deals, and discounts. The instant update about the deals and offers can be obtained from signing up with Subway. You can try any one of the following ways to save money from Subway. You can use:
Subway My way Rewards

Weekly coupon codes from Subway sent as a text message to the registered mobile number

Offers and deals update available in the inbox of registered mail.

Update of coupon codes from reliable websites

Reward points earned using Subway Mobile Application.
Subway website has a separate "Rewards and Deals" section. It initially asks you to sign up. After completing the signing up process, you can access awesome deals and offers from "SubwayMyway Rewards" by just logging in with your account. The fascinating thing is you need not pay for joining SubwayMyway rewards, and it is a free program provided by Subway. At present, it not available at all restaurants, but it has more than 50 participating restaurants right now. A reward of $2 can be redeemed from any of the restaurants participating in Subway Myway rewards, and this does not require any purchase of Subway cards. When you download Subway application by default, you will be registered with Subway Myway Rewards. The coupon codes will also be sent to the registered mobile number by accessing the service through which they provide coupon codes every week. They also provide many offers like Buy One Get One and the promo codes for those offers can be obtained from their website. There is a potential drawback while using, Subway mobile application. The offer redemption is not available while placing orders using the application. But it allows your card to be registered online, and you will gain rewards points for making a purchase using that card in any Subway restaurant. You will earn a point for spending a dollar. You will be availed with offers by using these points. If you got 75/100 points, then you can get footlong free. 50/100 points will get you a six-inch free.
Subway Review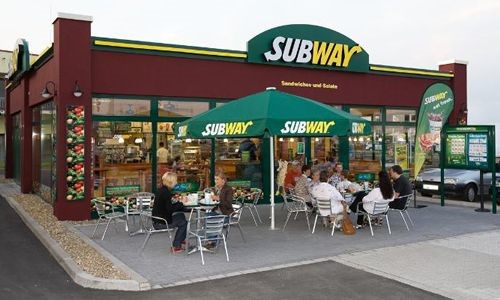 Subway started in 1965 by Fred DeLuca and Peter Buck, is recognized as the best fast-food restaurant, well known for selling sandwiches and salads. In addition to its core products, Subway delivers many other products like wraps, paninis, cookies, doughnuts, muffins and other baked products. Now Subway has about 40000 restaurants in more than 100 countries offering its delicious service to the entire world. More than half of these restaurants are located in the United States, the place where Subway had its origin. They provide satisfying and tasty service to the customers. The orders placed can be either individual orders or catering orders. They support both individual and catering orders and have defined their terms regarding the orders placement and payment methods. The cards accepted by SUBWAY GROUP include US-issued cards like credit cards, debit cards and other prepaid, or gift cards with any of the following logo. Visa, Discover, MasterCard, American Express, JCB or Diner's Club logo.
You can also place orders online, but the delivery service of Subway is not provided to all the areas. So you should verify whether delivery service is available to your location. The orders you placed cannot be returned, and you are supposed to pay the bill for your orders. The changes or cancellation of the placed orders should be done within 6 hours as per the terms of Subway. When you are not available to receive your delivery, your order will be returned to the restaurant, and you should collect within 2 hours. In case of delay, the order will be destroyed, but still, the payment for the order should be made. You can know of your order from the Subway site, but in some cases, the price may differ from the price your order at the Subway restaurant you have selected. In this instance, the total amount of your order will be based on the menu prices of the selected Subway Restaurant. The payment for your orders can be made through your credit cards, debit cards or Subway cards and cash on delivery service is also available for some orders. Subway occupies the first position in the favorites list of many customers when it comes to healthy and tasty food. It also satisfies the customers with their perfect delivery services and ensures that all the orders are delivered on time.
You can sign in with your mail you can access the rewards and deals section of Subway website. They also provide exciting deals and offers in your inbox. You can also make use of another service provided by Subway, through which it sends coupon codes as a text message to your mobile number. You should also try following Subway on social networks like Facebook and Twitter, where they constantly post the coupon codes, promotions, offers, and deals. By using these coupon codes and discount offers that Subway provides you can save your valuable money.