How to Use Petco Coupon Codes?
Petco likes marketing. Therefore, it often promotes its products by providing customers with amazing offers, deals, and discounts that can be claimed using specific coupon codes. Check out the steps below to find out how to use Petco coupon codes.
1. Locate the product you want to buy on the official Petco website.
2. Select product weight and product quantity and then click on 'Add to Cart'.
3. Click 'Proceed to checkout' to move to the next stage.
4. Click 'Continue as guest' to move to the last page.
5. Fill in your shipping information and choose your method of shipping.
6. Just below the payment information section of this page, you will see a box marked 'Add a promo code'.
7. Enter your coupon code and complete your order.
Now that you know how to save using Petco coupon codes, let us tell you how to save using the store's coupon page.
First, you should visit the official coupon page on the site: https://www.petco.com/shop/en/petcostore/petco-coupons-promos
This page has every promotion available on Petco. Each promotion on the page is explained so that you know what you are getting into.
The second step is to click on one of two buttons; you will find that most of the promotions have two buttons – 'Shop Now' and 'See Details.' Clicking on 'Shop Now' will redirect you to the exact page on the site where you can see the product or products on offer and buy them. Clicking on 'See Details' will result in a pop-up page where you will see all the nitty-gritty about the specific offer/ promotion. So if you are the type of lad who likes reading terms and conditions, you should click on 'See Details' first, before shopping for the product you are looking for.
As you can see, you should be able to easily access the offer you want in the second step.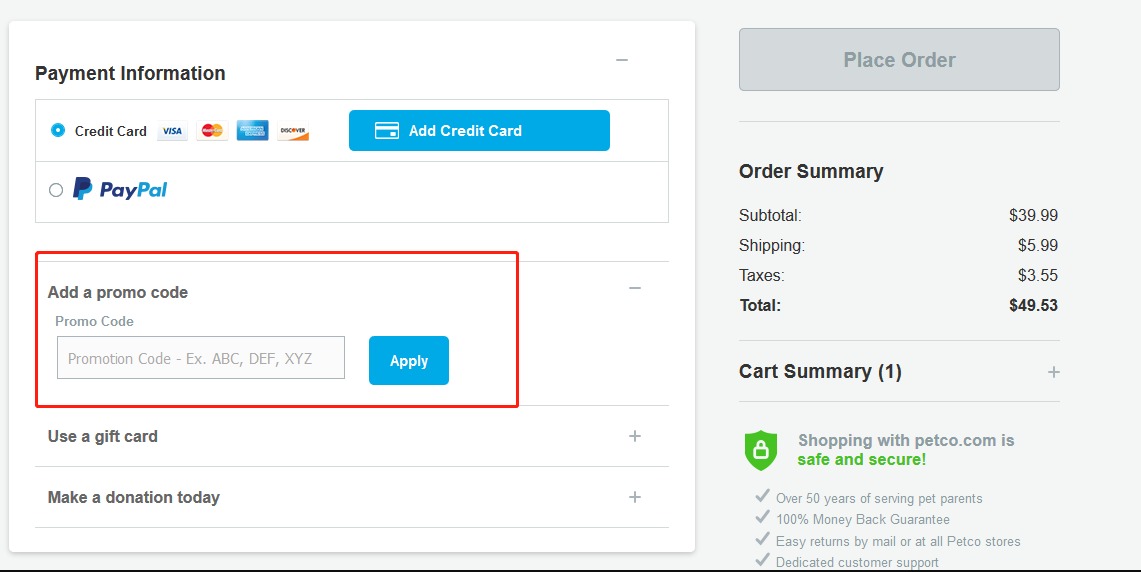 How to Save From Petco?
If you shop for pet products regularly or you intend to do so, there are a number of means through which you can save good money at Petco.
For instance, there is the Pals Rewards loyalty program by Petco. You must be at least 16 to sign up for this program. The moment you sign up, you will earn 10 points for every $10 you spend at Petco retail stores and on their online store. Every 100 points are redeemable for $5 off your next purchase. So it's like getting $5 for free for every $100 you spend at Petco; money that you can actually use on your future purchases. However, you've got to note that the points you accrue will be reset to zero if you don't make purchases within every six months. Therefore, you will have to stay active to reap the rewards. Moreover, you've got to know that you won't get any points for purchases you make using gift cards or donations.
What's more, you can save good money by training your dog at Petco. Yes, training your dog can save you money. As a Pals Rewards loyalty program member, you can earn $40 dollars as a reward by subscribing your canine friend to specific training programs at Petco. And you not only get the forty bucks but also the normal rewards points for the money you spend subscribing your dog to the training lessons. So in the end, you get free money plus a well-mannered and intelligent pal; definitely a win-win situation for you and your pet pal.
Additionally, Petco gives great discounts for those who opt-in for repeat deliveries. Choosing 'repeat deliveries; during checkout will not only save you money but also ensure that your pet companion gets his or her meals and treats on time.
Lastly, Petco has a promotions page where you can access all their latest deals and promos in one place. This page makes it very easy to locate the exact kind of discount you are looking for. You no longer have to search endlessly on Google to find active coupon codes. Simply bookmark the Petco promotions page and visit them before you make any purchase.
Petco Review
Petco is definitely one of the most exciting companies of its type. It makes it easy to find quality pet food regularly at discounted prices! The company was started decades ago to supply veterinary merchandise. It has now grown to become a multi-national enterprise operating in over 1500 locations across North and Central America. The company now supplies pet food, pet treats and so much more. You can get leashes, pet care products, clothes, pet housing products, and even training services from them. The company regularly makes sales worth over $4 billion. Apart from their pet business, as part of its CSR, the company runs the Petco foundation that donates money towards the improvement of animal welfare.
To make maximum savings when buying pet products from them, make sure you first sign up for their Pals Rewards loyalty program. The program will give you redeemable points for every purchase you make. When you sign up for the program, make sure you buy stuff at least once every six months so that your points are not reset to zero. By doing this, you will be able to quickly accumulate points that you can later use to buy something at the store.
Remember, there is a way you can earn forty extra bucks for your program by simply purchasing training time for your dog. You get forty bucks plus the normal redeemable points awarded for every purchase in the program. This is a fun way to get more for your pet and for your wallet.
Moreover, Petco has plenty of promotions that will excite you. The promotions are conveniently placed on a single page on the website. Visit the page often, to profit from the available deals.
Finally, Petco sponsors regular pet adoption events at its stores. You can legally adopt a wonderful and healthy pet for your family by attending one of their adoption events. However, there are terms and conditions you will have to meet in addition to the small fee you will pay for the adoption. The fee usually goes towards catering for the transportation fee and the cost of veterinary checks. The terms and conditions include the fact that you must have the right to own a pet if you are living in a rented house. You must also have two references; guys vouching for your ability to sufficiently care for a pet. Meeting these terms will allow you to adopt a pet and get a new companion if you want one from Petco.