How to Use Sunglass Hut Coupon Codes?
Do not miss these promotional offers by not utilizing your coupon codes available for the discounted items or offers. Simply
Click on the option of special offers and choose the product on offer

Click shop now icon on that item, it will take you to the basket page and place it on your basket

Enter the code on the promo box on the basket page

Finally, you submit the purchase and wait for the free 2 day delivery in the comfort of your home.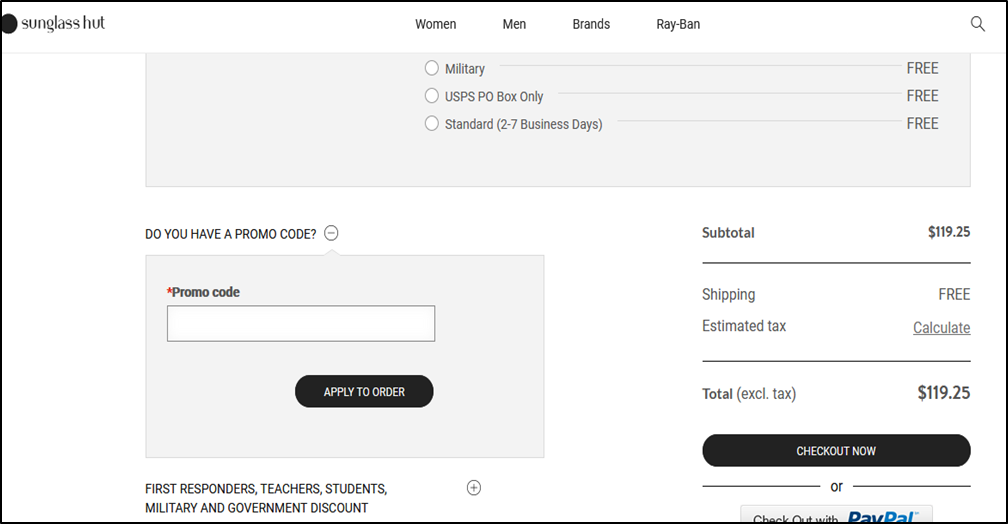 How to Save With Sunglass Hut?
Sunglass Hut offers a variety of ways to help its clients save as much as possible in their purchase. The website of this company is full of discount offers, promos, and coupon codes available to every customer. You can save through the ongoing promotion by saving 25%-off on Michael Kors sunglasses, this offer is redeemable on the stores that this glasses are found, 30%-off for the Sunglass Hut collection; this cut-off is applicable to the full price of the Sunglass collection.
Additionally, when you make a purchase of STOP THE GARE you will save $40 on the second pair; this offer is redeemed by entering the code in the promo box on the basket page. You will also earn a discount of 15% on the offer of ID.me. Maximize on the free two-day shipping and free 90-days returns to save some more money. Also when you pay using the PayPal and PayPal credit you get yourself an opportunity to earn huge discounts and earn $50.
Sunglass Hut Review
The Sunglass Hut is committed to its mission which is to be "the premier shopping and inspiration destination for the top brands, latest trends and exclusive styles of high-quality fashion and performance". Since 1971 when Sanford Ziff started the business up to date it has stood tall in the market and proven to be the best in eyewear across the globe. By the year 1986 Sunglass Hut had opened one hundred stores accumulating sales worth of $24 million within a span of 5 years. This growth expanded to $100 million sales in 1991; in 1996 the Sunglass Hut had taken over 30% of United States sunglass market. The growths of this company exploded enormously when it launched its first e-commerce website allowing millions of clients to make a purchase online.
Among the top brand of this company include Gucci, Ray-Ban, Off White, Prada, Oakley, Versace and Michael Kors. These brands will suit your preference and taste and are available in-store kiosks in the United States, Canada, Israel, and the United Kingdom among many others and also an online platform (SunglassHut.com).
As you visit the website keep your eye glued to the promo, coupon codes and deals for special offers only tailored for you which includes among others,
30% off Sunglass Hut collection

25% off Michael Kors Brand

15% discount offer on ID.me

Discounted PayPal purchase

Free 2 days delivery

Free 90 days return shipping