How to Use Walgreens Coupon Codes?
Walgreens has a robust online ordering system. There are plenty of coupons you can use to get discounts on the company's online store or on any of the many Walgreens locations in major cities and towns around the country. Use the guideline below to claim Walgreens coupon codes on Walgreens.com
1. Browse Walgreens.com to find the product of your choice.
2. Select product quantity and specifications and then click 'Add to cart.' A popup window will appear with two options, 'View cart' and 'Continue shopping.' Select the former option. This will redirect you to the checkout page.
3. There is a field marked 'Promo Codes & Coupons' on this page. Enter your coupon code here and click 'Apply.' This will instantly reduce your order total by the percentage indicated in the promo/ coupon code.
4. Complete the order by clicking either the 'Proceed checkout' button or the 'Check out with PayPal' button.
5. Pay and wait for your product to arrive.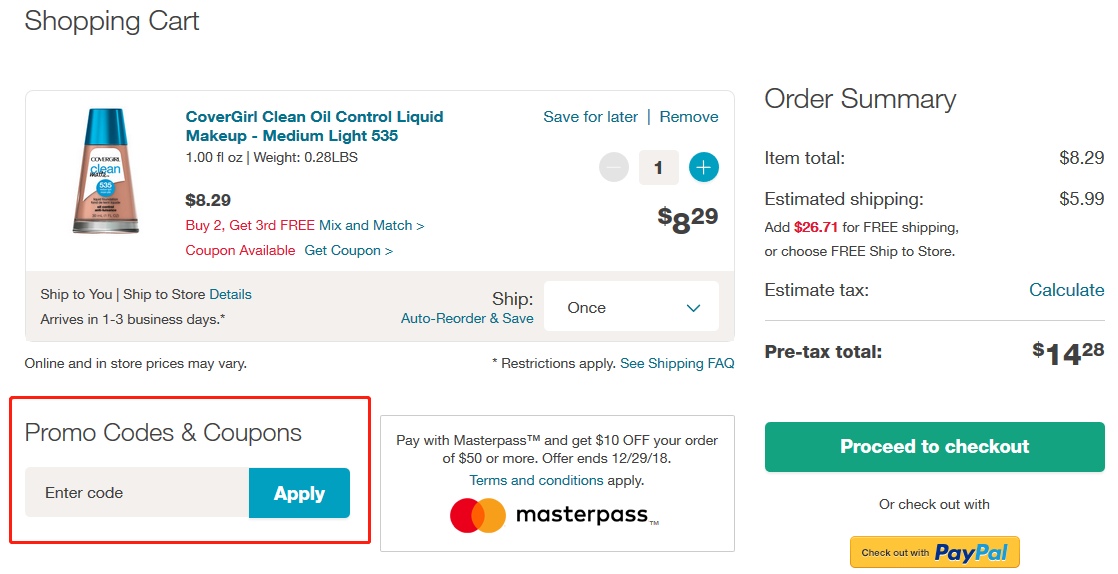 How to Save at Walgreens?
Walgreens runs a good number of promotions every year to help its customers save. You too can now save by doing any of the three things we have detailed below.
You can save by becoming a member of Walgreens and signing for the retailer's Balance Rewards loyalty program. The moment you sign online and confirm your membership, you will start earning points for all the purchases you make. You will earn points for shopping online, in-store, and from the official Walgreens App. Certain items have more points than others.
Generally, you will get 10 points for every dollar spent. Shopping on beauty products will give you more points; you will get 5000 points for every $50 spent on beauty products. You also get 20 free points for making healthy choices e.g. weighing in, monitoring blood glucose, running, tracking sleep, or quitting tobacco with NRT. When you get enough points, you can redeem every 1,000 points for a dollar.
In addition to the points, you will also be getting special rewards for buying specific items. Right now, you can get a $5 reward for spending $25 on certain items.
You can also save good money at Walgreens by taking advantage of the retailer's digital coupons. The Weekly Ad section of the paper also has a good number of items available on sale. The low prices will help you reduce your weekly/ monthly budget. You can then use the money to buy more items or to do other things that you could have not otherwise done if the items were costly.
Moreover, Walgreens allows you to auto-reorder the stuff you buy from them. If you choose to auto-reorder a product, Walgreens will send it to you at the same time of the month, every month until you choose to stop the order. This will be extremely convenient for you. Furthermore, the item will be delivered to you at a discount. So if you have any items that you order frequently, you can set this option and receive a discount every time.
Walgreens Review
Walgreens was started by Walgreen Sr. in the year 1901. He started a simple pharmacy and probably didn't expect to have the kind of success he had.
The pharmacy was founded in Chicago. Within 20 years, it had grown to over 20 locations. It grew exponentially over the next couple of years to reach 397 stores by 1930. The founder exited the scene in 1939. Although the company didn't continue to experience the same kind of growth until later in the century, it still recorded good numbers in terms of revenue.
As of now, Walgreens is no longer just a pharmacy. It is a diversified chain store making money from selling a variety of health and beauty products.
You can now enjoy multiple types of deals from Walgreens by checking out the section above this one.