How to Use Wingstop Coupon Codes?
It is easy to order food online on the Wingstop restaurant website. It is also easy to apply a Wingstop coupon code when checking out during the online ordering process.
Ordering your food online will help you to skip the queues at Wingstop restaurant, as you will be able to just walk into a restaurant and pick your ready order instead of wasting time waiting for your meal to be prepared. Check out the process below to learn how to apply Wingstop coupon codes when getting your flavorful Wingstop wings online.
Visit the Wingstop website and click the tab "ORDER NOW." This will direct you to another page where you will be asked to enter your zip code or street address.

Enter your zip code or street address and click "GO." This will reveal the restaurants closest to your address. Click the button "ORDER" next to the nearest Wingstop location to your place. This will reveal the restaurant's menu.

Use the menu to select the menu items you would like to buy. You can select wing combos or you can select by the piece.

When you click on a menu item, you will be directed to a meal customization page which you will be able to use to choose flavors, sides, and other meal accompaniments. Do so and then click "Proceed to checkout." This will redirect you to the checkout page where you can review your order information. There is also a field for entering your Wingstop coupon code right below your order summary.

Enter your coupon code and then click "APPLY COUPON CODE." This will automatically reduce your order total.

Complete the checkout process by selecting the pickup time, and entering your personal details and then click "PLACE ORDER."

Go and pick up your order at the time you selected.
As you can see, it is relatively easy to place an order online on Wingstop. It is also easy to apply to the restaurant's coupon codes.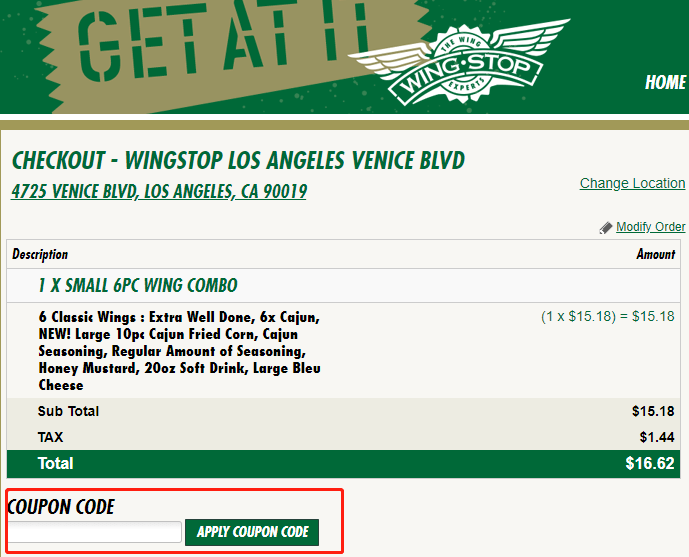 How to Save from Wingstop?
There are many ways to save at Wingstop. We have done the research on the Wingstop restaurant and we have also asked friends who frequently dine at the restaurants to find out how to save at the chain restaurant. The saving tips we discovered were pretty exciting.
According to the Wingstop website, the best way to save money at the restaurant is to become a member of their online club referred to as "THE CLUB." The club is all about making its members the ultimate fans of Wingstop. Every once in a while, members of the club receive a newsletter with the latest news and deals from Wingstop.
But that is not even the exciting part. The exciting part is that you get a freebie immediately when you sign up. The moment you complete the sign-up process, Wingstop will send you a Wingstop code that you can use to get a free order of fries, the next time you are ordering one of their meals. THE CLUB calls his freebie, the signing bonus. Apart from the signing bonus, and the regular deals, all birthdays are celebrated at the club with a free gift. So make sure you don't have plans on your birthday because Wingstop has got something special for you.
According to one of the Wingstop fans we talked to, you can also save good money by buying Wingstop gift cards on third-party marketplaces. But before you buy a gift card, make sure you confirm the authenticity and the balance of the card. You could be buying a card that is not valid or has no balance.
Combo meals can also save you good money as they are discounted.
Lastly, you can save money at Wingstop by applying Wingstop coupon codes. Companies normally give out coupon codes to increase sales and revenues. This restaurant also gives out coupon and promo codes on its website and through its affiliates. Therefore, you should check out our website the Wingstop website to find coupons to apply to your order at checkout. The coupons will help you to save specific amounts of money every time you use them.
Wingstop Review
Those who have been to a Wingstop know what a great place it is to dine at! The restaurant chain serves some of the most flavorful fried chicken in the American restaurant scene.
The restaurant was started not so long ago in 1994. It has been in existence for less than 24 years but it has grown considerably and it now has a presence in more than a thousand locations. You will find Wingstop locations from the east coast of the United States to the West Coast of the United States and in many places in between. The restaurant also has a presence in several international markets including the UAE and Mexico.
The restaurant was founded by Antonio Swad who is also the founder of Pizza Patron. Mr. Swad is credited with giving the restaurant its history of aviation theme, and with distinguishing its food recipes and making its wings more flavorful than those of competitors. It is the restaurants flavorful chicken and the outstanding customer service that quickly made it popular with many fans in the Garland, Texas.
The restaurant has improved its menu over the years and now serves chicken in so many flavors they will make your head spin. The flavors are also great and unique. Sides include fried corn and French fries.
You can enjoy great savings when dining at a Wingstop location by signing up for their email subscription program and getting deals off the back of that. You can also save by buying discounted Wingstop coupon codes, and by strictly buying combo meals instead of ordering meals by the piece. Lastly, you can also save by looking out for coupon codes from Wingstop on the official website and on coupon code websites such as this one.